If you're planning a getaway to Oahu, Hawaii then you're probably already dreaming about relaxing with a tropical cocktail. One of the most popular is a rum-based cocktail called the Mai Tai. I'm sure you've heard of it!
Ever since Victor J. Bergeron – aka "Trader Vic – introduced the tiki bar star to Hawaii in the 1950s, it's become an island staple. Most restaurants and bars in Hawaii have Mai Tais on their menu, but only a select few stand out from the crowd. After trying countless cocktails at various venues, I decided to share my absolute favorite Mai Tais to help future imbibers experience the best of the best!
How was the original Mai Tai made?
Trader Vic's original recipe featured golden, medium-bodied rum highlighted with just a touch of lime, orgeat (non-alcoholic, almond-based syrup with a hint of orange flower water), orange curaçao, and simple syrup. The story goes that after shaking the ingredients with ice and serving the chilled concoction to some Tahitian friends, the cocktail earned a response of "Maita'i roa a'e," which translates to "Out of this world! The best!" Trader Vic liked the name "Mai Tai" and the rest is history!
After the success of the traditional Mai Tai, Trader Vic traveled to the Hawaiian Islands in the to share the revolutionary recipes with the Royal Hawaiian and the Surfrider hotels. To keep up with the demand and also make a more tourist-friendly cocktail he switched up his original recipe, adding in a blend of fruit juices. People went wild for the "Hawaiian" version of the Mai Tai and it soon became just as popular (if not, more popular) than the original mai tai!
1. Royal Hawaiian Mai Tai
A classic with an unbeatable backdrop
The Royal Hawaiian Mai Tai from Mai Tai Bar in Waikiki is continuously rated as one of the best Mai Tais in Hawaii. For almost 70 years, people from all over the world have gathered in this very spot to enjoy the iconic cocktail while soaking in the eternally stunning views of Waikiki Beach and nearby Diamond Head. 
The Royal Hawaiian Mai Tai preserved the recipe created by Trader Vic during his time in Hawaii, adding fresh pineapple and orange juice into the mix of orange curacao, orgeat, and local rums from Old Lahaina distillery on Maui. They even shared the recipe so you can recreate this unforgettable cocktail at home »
A unique spin on the traditional Mai Tai (and quite possible my favorite!)
The Monkeypod Mai Tai from Monkeypod Kitchen by Merriman in Kapolei puts a unique spin on the classic Mai Tai with their game-changing honey-lilikoi (passion fruit) foam. The key to success, in this case, is adding a complementary twist to the classic recipe without taking away from the traditional mai tai experience. 
Instead of your typical almond-flavored orgeat, the Monkeypod Mai Tai features a house-made macadamia nut orgeat that perfectly compliments classic ingredients including old Lahaina light and dark rums, lime juice, and orange curacao. The cocktail is then topped off with their signature honey-lilikoi foam resulting in a well balanced mai tai with a unique refreshingly tart flavor. You won't find a mai tai like this anywhere else!
Located at the Halekulani in Waikiki, House Without A Key is known for its killer sunsets and their signature mai tai. Not only is the restaurant location stunning, their mai tai is also almost too beautiful to drink! The cocktail comes topped with an delicate orchid, a garnish of fresh mint, and a sugar cane stick.
The Halekulani signature mai tai recipe dates back to 1983 when bartender Wing Liu wanted to create a cocktail that would set them apart from the other hotels. The secret is the distinct blend of three rums and freshly squeezed lime juice to balance the sweet orgeat syrup. The first layer is a blend of the golden Bacardi rum and orange Curaçao to simulate the golden sunshine of their beachfront location. It is then topped with a Bacardi 151 floater, for an instant hit of flavor the moment you take your first sip. Halekulani also released their signature recipe so you can learn to master it at home »
House Without A Key is temporarily closed until further notice. You can check their website for updates!
4 + 5. Duke's and Hula Grill
Duke's signature cocktail is – you guessed it – also a mai tai! Their recipe is made with fresh hawaiian juices and two types of rum. The freshly squeezed PPOG (pineapple, passion, orange, guava) juice makes this version taste wonderful, masking the stong rum with the fruity local flavors we know and love! Check out this video to see how its made »
Hula Grill (located right above Duke's in Waikiki) also serves a similar mai tai made with hawaiian pineapple, guava, orange and passion fruit juices, orgeat, hana bay gold rum, orange curacao and a diamond head dark rum float.
I love that these mai tais are served in a tiki head glass! If you're willing to forgo the fun tiki glassware, you can actually get a mai tai to-go from "The Puka" bar at Duke's so you can enjoy it on the beach. (Puka actually means "hole" in 'Ōlelo Hawai'i, which is fitting since this bar is literally a "hole" in the wall on the east side of the building, facing Diamond Head)
6. Clark's Mai Tai at Haleiwa Joes
Mai Tais in the Mountains & North Shore Nightcaps
Haleiwa Joes has two locations on Oahu – Haleiwa and Haiku Garden in Kaneohe. While the Haiku location offers unparalleled mountain views, both restaurants serve a pretty great mai tai made with light & dark rum, orange and pineapple juice, topped with a float of 151.
7. 1944 Mai Tai at Tiki's Grill & Bar
Tiki's has been one of my favorite Waikiki lunch spots for years because of their fantastic mahi mahi sandwich. I can't seem to resist their mai tais either! Their 1944 Mai Tai doesn't exactly replicate the traditional recipe created the year its named after, but it's delicious nonetheless! Tiki's also incorporates a passion fruit foam on top of premium Cruzan Light Rum, Trader's Vic Dark Rum, Orange Curacao, Orgeat, and Fresh Lime Juice. The fun part about Tiki's is that the drinks come in a souvenir glass you get to keep!
They also have happy hour specials that usually include a decent deal on their mai tais! Check out their website for more info »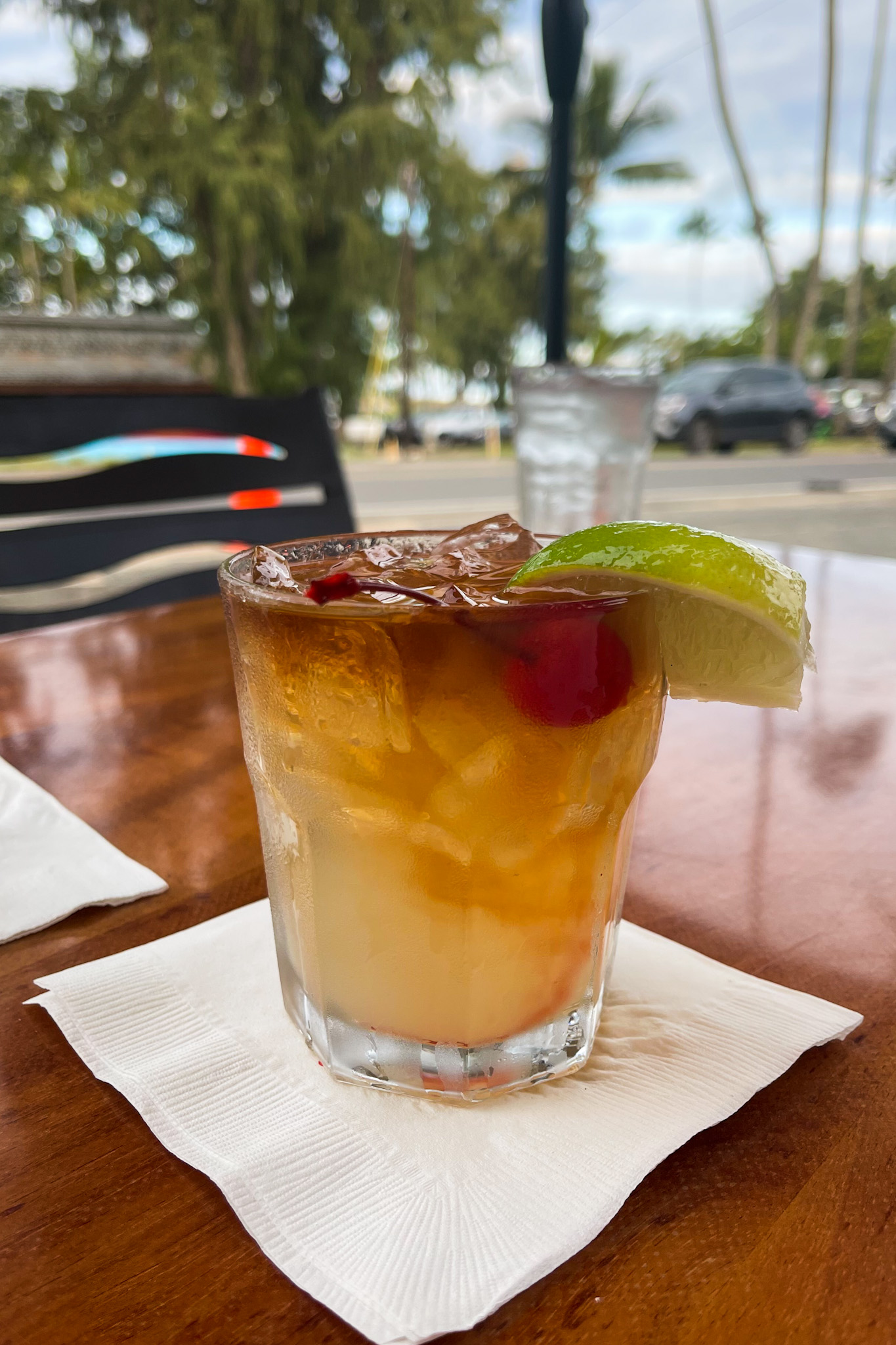 Buzz's Original Steak House is a great restaurant for lunch and dinner located right across the street from beautiful Kailua Beach on Oahu's east side. Their mai tai is strong. It's made with a self-proclaimed "famous blend" of bacardi superior, bacardi gold, trader vic's mai tai mix, and a floater of myers rum. If you want a drink that packs a punch, go for the mai tai. If you want something similar that's a little less severe, go with the B.F.R.D. – aka the Big F*ckin Rum Drink – which includes everything in the mai tai mixed with pineapple juice to make it go down a bit easier!
Mai Tais and tropical paradise go hand-in-hand. Here's hoping you'll have one of these Hawaiian mai tais in your own hand soon! Which one will you try first?