There are endless activities and places to see during a trip to Oahu, and it can be a little daunting to choose the best things to do! Sorting through all of the information on the internet can be overwhelming and stressful, but I believe planning your vacation should be part of the fun.
This post is here to help you cut through the clutter and plan an unforgettable trip that will leave you with lasting memories of this beautiful island. I have been exploring Oahu, Hawaii for the past seven years. Here's my list of over 50 AMAZING things to do on Oahu for a meaningful and memorable experience.
Got questions about traveling to Hawaii? I'd love to help! Leave your Qs in the comments below 🙂
Start the day by watching the Sunrise
The best spots for sunrise on Oahu:
Kualoa Beach

Lanikai Beach
Visit Oahu's iconic beaches on all four coasts of the island. Each one offers something unique!
Waikiki Beach (South Oahu)
Located along the famous Kalakaua Ave strip, there's no better place to catch your first wave, float in an inflatable tube, people watch, or simply gaze at stunning Diamond Head crater.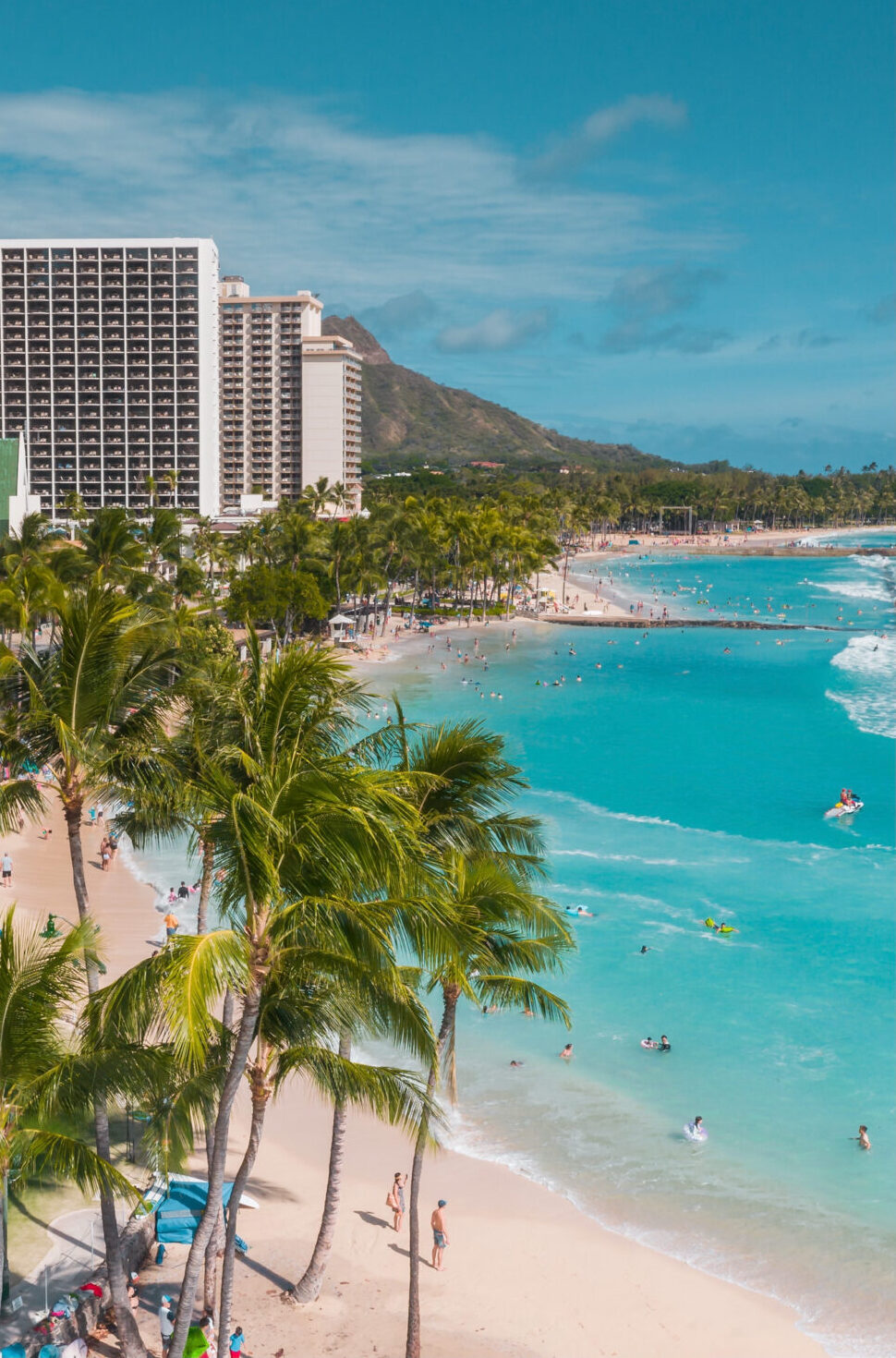 View of Waikiki Beach and Diamond Head in Honolulu
Lanikai Beach (East aka Windward Oahu)
Stopping at Lanikai to get a picture of the mokes (the two offshore islets) is a must-do! Head to Lanikai early if you plan to spend the day here. You'll need to park along the side of the road and space fills up very quickly.
Lanikai Beach is one of Oahu's best photo opps!
Kailua Beach (East aka Windward Oahu)
Located down the road from Lanikai Beach, Kailua Beach is equally gorgeous with easier parking in one of two parking lots. Space fills up here just as quickly so start your beach day early!
Ocean Safety Disclaimer: Beach and ocean conditions can be extremely dangerous and certain activities may require a certain level of ability and skill. Always take proper safety precautions when near bodies of water and pay special attention to weather forecasts, tides, currents, and safety signage. Visit hioceansafety.com to view current wind & surf reports and additional safety information. As the trusty old saying goes: When in doubt, don't go out! 
Sunset Beach (North Shore Oahu)
This is an all-around perfect Hawaiian Beach! During summer months it is the perfect spot to take a dip and swim around. In the winter months, you can watch experienced surfers riding monster waves. As the name suggests, this is a great sunset destination year-round.
What a difference a few months can make at Sunset Beach!
Waimea Bay (North Shore Oahu)
This famous beach is home to the Eddie Aikau Big Wave Invitational surf competition. If the water is calm in the summer, you can jump off the huge rock into the turquoise blue water below! Be sure to check with the lifeguards to make sure it is safe to do so.
Thrill-seekers will LOVE taking the 25ft plunge from the iconic Waimea Bay jump rock
Makaha Beach (West aka Leeward Oahu)
Makaha is home to another famous surf beach with spectacular swimming on calm days.
Ko Olina Lagoons (West aka Leeward Oahu)
There are three sheltered lagoons located within the Ko Olina resort area. The lagoons are perfect for families or anyone looking for calm water to splash in.
Idyllic Ko Olina Lagoons on Oahu's Leeward coast
Check out the best places to eat on Oahu and try some of Hawaii's famous snacks, drinks & dishes!
My go-to flavors are guava, lilikoi (passionfruit) + mango. Try yours with ice cream at the bottom or condensed milk drizzled on top – yum!
Pick up some warm malasadas (Portuguese doughnuts) from Leonard's in Honolulu.
I had to get all of my favorites – guava, haupia, and macadamia. Try one coated with li hing powder!
Try some ahi poke (raw tuna, typically served over rice). 
For casual grab and go, my favorite is Foodland (local grocery store). Many restaurants also offer a more upscale poke dish as an appetizer.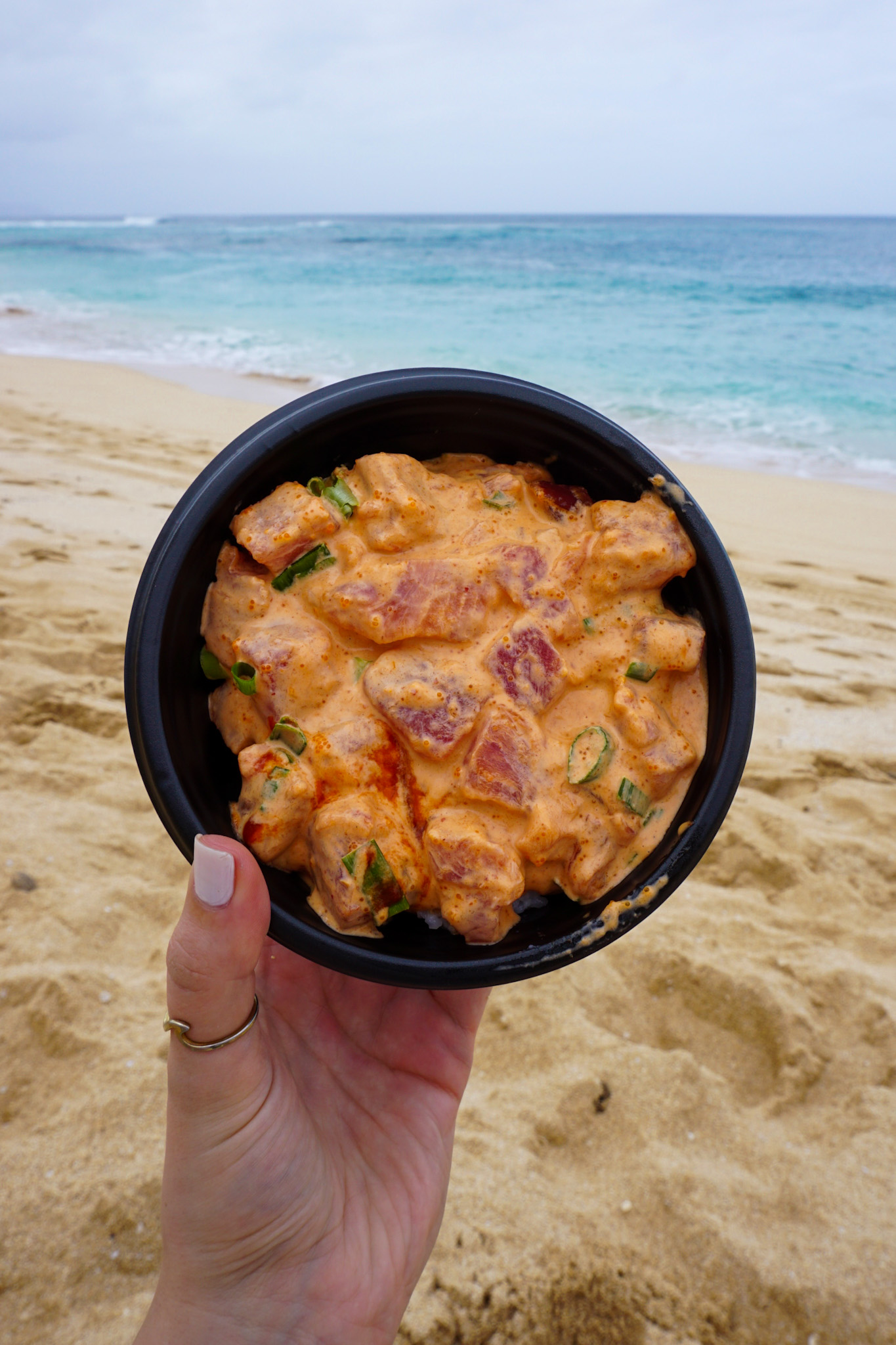 Spicy ahi tuna poke over rice with furikake from Foodland in Pupukea. Poke pairs well with the view at Sunset Beach!
Nothing beats cold acai on a hot Hawaiian day
Chow down on a plate lunch. 
Ted's Bakery does it best (make sure to save room for their famous haupia cream pie too!)
Try some fresh, island-grown fruit! 
Stop by the Dole Plantation for some pineapple (or try some Dole Whip – aka pineapple soft serve.) There are also some amazing farm stands selling just-picked fruit like Kahuku Land Farms. My mouth is watering just thinking of the fresh lilikoi, guava, mango and kiwi!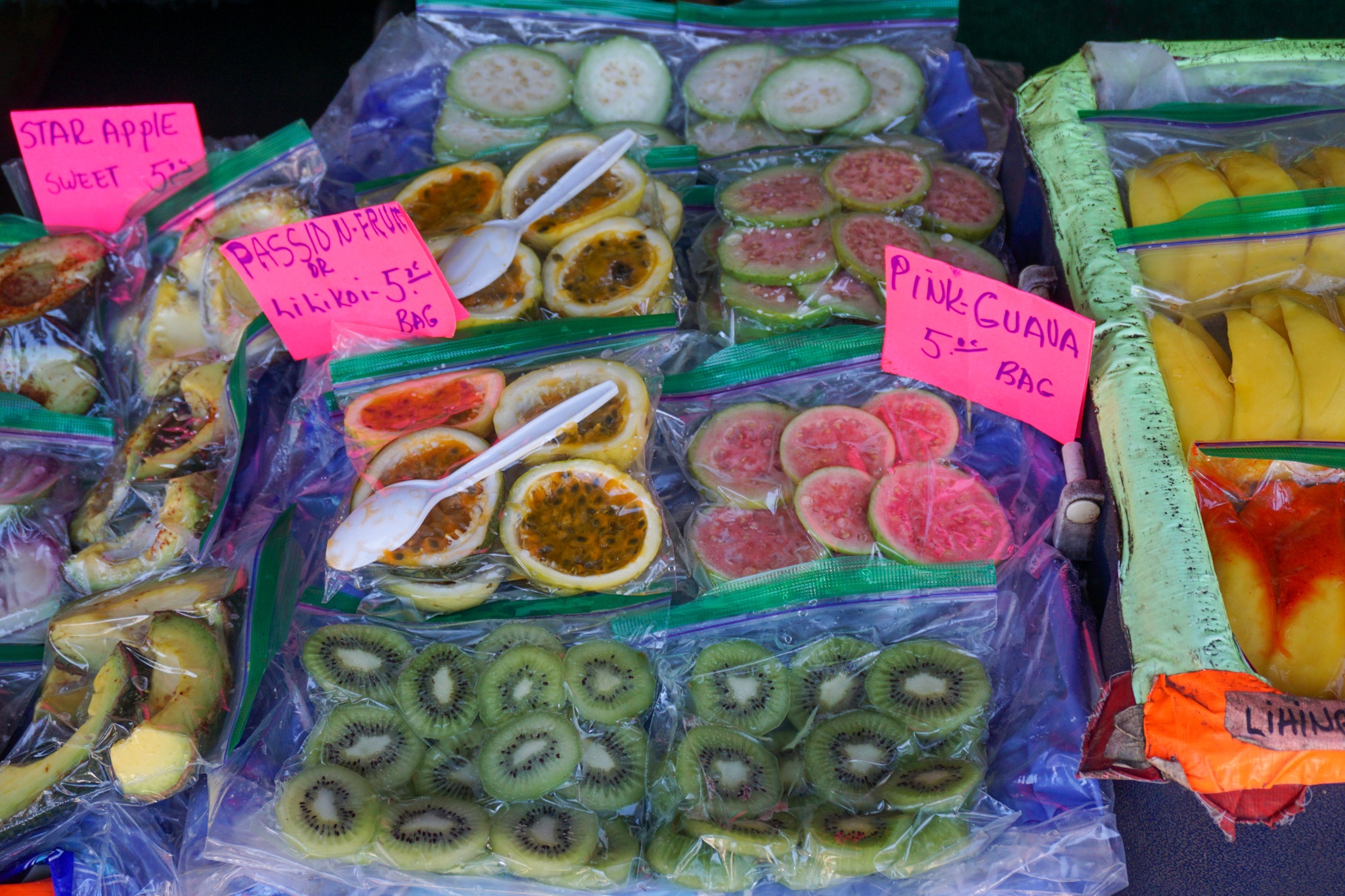 You can't beat the fresh fruit selection at Kahuku Land Fruit Stand on Oahu's North Shore
My favorite island coffee order – cold brew with coconut milk and honey (Haleiwa Bowls does it best!)
Attend a Luau and try Hawaiian staples like poi, lomilomi salmon, kalua pig, and shoyu chicken.
Adventurous Things to Do on Oahu
Make sure the Tidepools are safe before taking a dip. It is extremely important to check the tides and weather forecasts ahead of your visit.
Swimming with sharks is my all-time favorite thing to do on Oahu!
Take a surf lesson in Waikiki or Haleiwa.
See Oahu from the sky and take a helicopter tour of the island. This is actually the only (legal) way to see Sacred Falls – Oahu's tallest waterfall. You might also be treated to a full circle rainbow!
Take in panoramic views of lush island vegetation during an exhilarating Zipline adventure.
Kayak to the mokes in Lanikai or to Chinaman's Hat in Kualoa. The view of Oahu from these little islands is unforgettable!
Skydive on Oahu's North Shore.
Aerial view of Kualoa Ranch
Hiking Disclaimer: Hiking can be extremely dangerous and certain hikes may require a certain level of ability – not every trail is a good idea for every person. Please keep your personal fitness and skill levels in mind, and always take proper safety precautions. Many popular hikes in Hawaii are also illegal and could come with hefty fines. Do your research before your adventures to make sure hikes are open to the public and not on private land. Always check weather forecasts and tides if applicable!
Hard Oahu Hikes:
Pali notches

Haiku Stairs aka Stairway to Heaven (FYI this hike is illegal!)

Olomana Trail aka Three peaks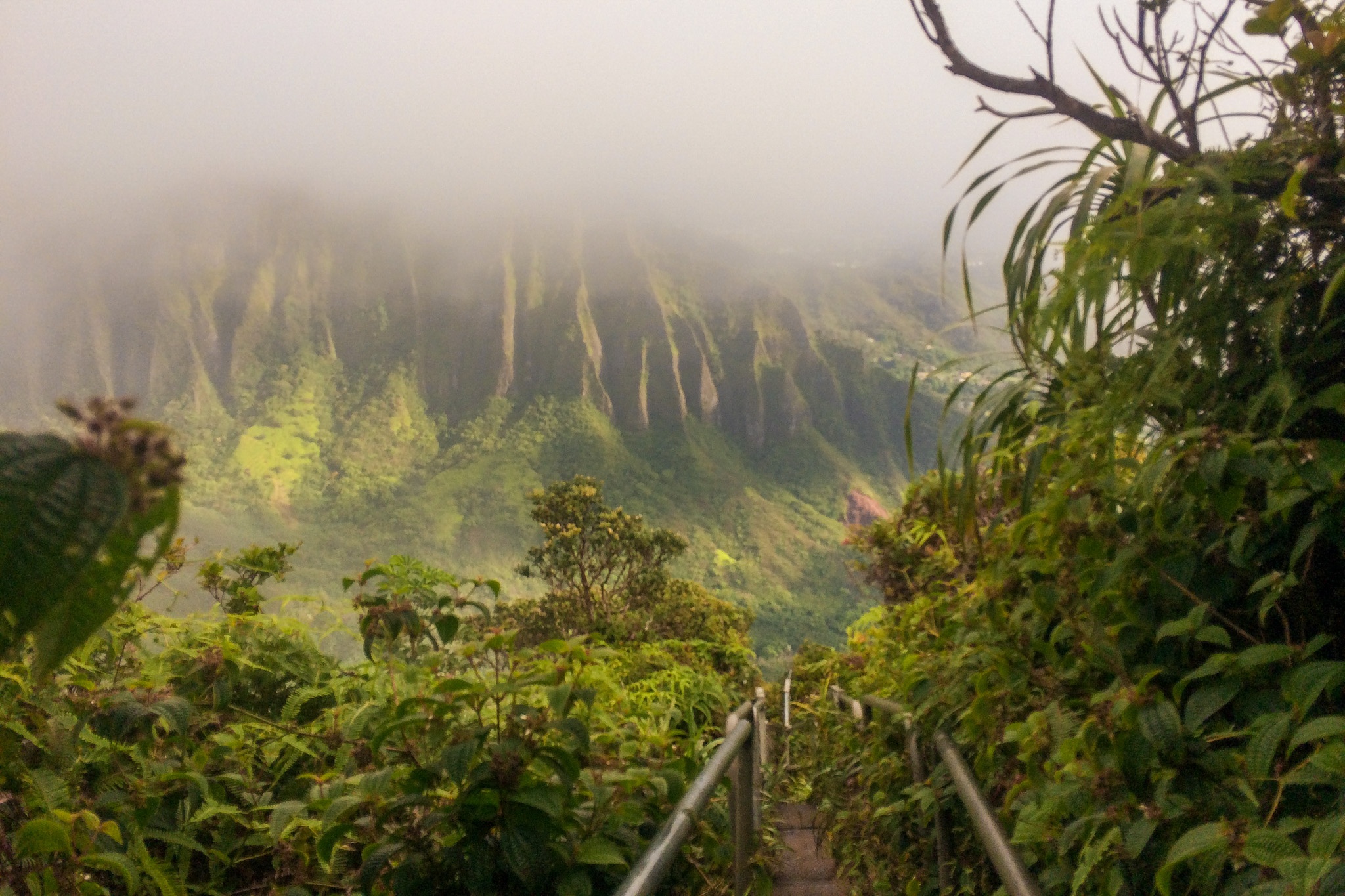 The Stairway to Heaven is not for the faint of heart! You'll climb a rickety "staircase" until you're so high up your head is in the clouds. 
Get up close to Hawaii's extraordinary sea life
Take a whale watching tour (November – May)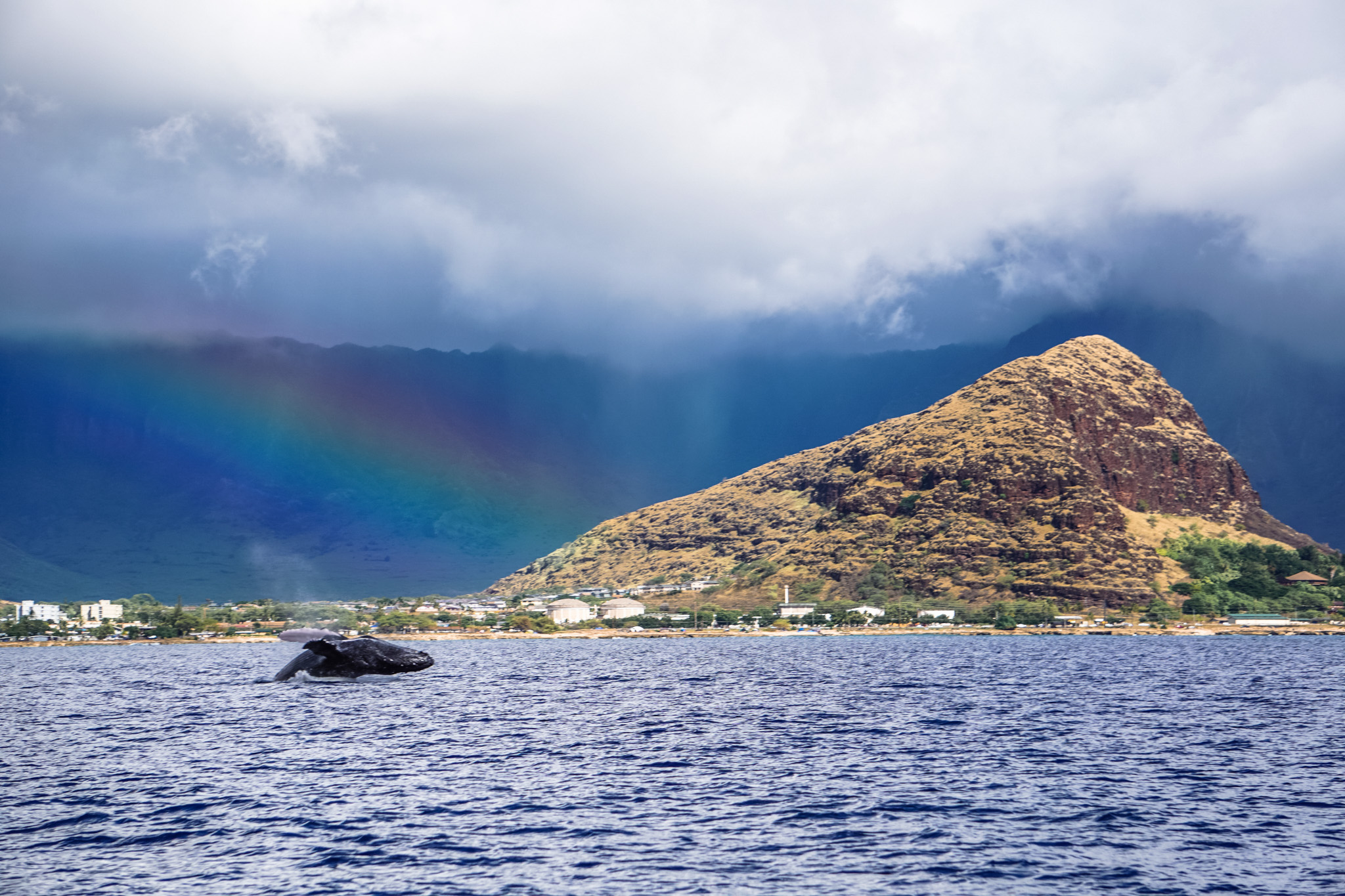 Humpback whales are born in Hawaiian waters each year, making them kamaʻāina (native born)
Swim with wild dolphins in Waianae.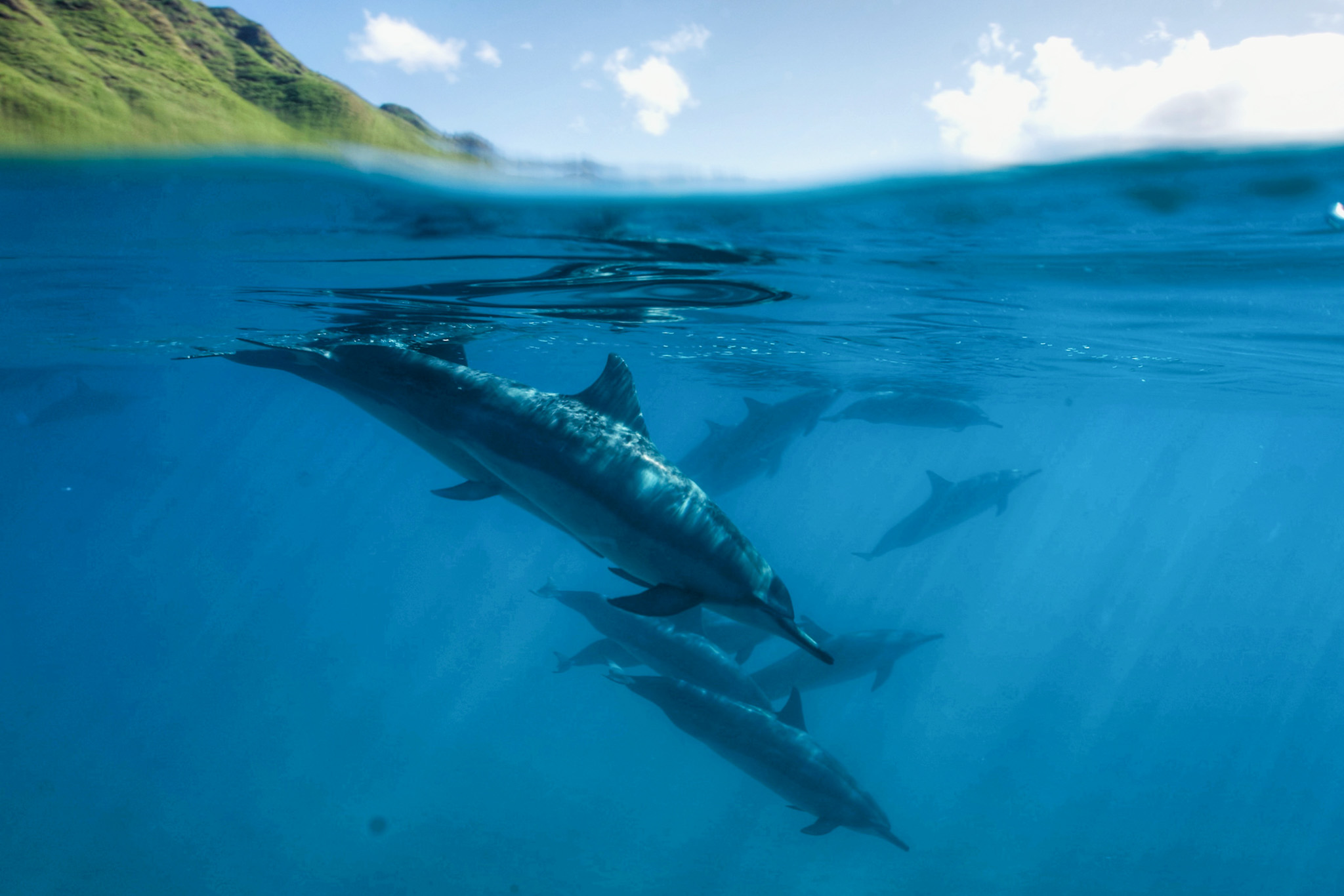 Swimming with wild dolphins is one of the most magical things you'll ever experience!
Look but never touch! Many of Hawaii's animals are protected by law which require you to give them space. Never touch, disturb, or chase the wildlife you come across on your adventures.
Snorkel at popular spots like Hanauma Bay or Shark's Cove (or tote your own snorkel and mask and explore beaches like Makua Beach, Lanikai Beach, and Kaimana Beach)
Enjoy a short 20-30 minute walk through a paved Botanical Garden to reach this beautiful waterfall and swimming hole
Or hike to a waterfall like Manoa Falls, Lulumahu Falls or Likeke Falls.
Learn about one of the most pivotal moments in US history – the attack on Pearl Harbor – at the Pearl Harbor National Memorial. Tours are available daily to visit the USS Arizona Memorial, which is built over the remains of the sunken battleship USS Arizona, the final resting place for many of the 1,177 crewmen killed on December 7, 1941.
Find the Kaniakapūpū Ruins aka King Kamehameha III Summer Home.
Visit the stunning Byodo-In Temple, a non-denominational Buddhist temple nestled at the base of towering green mountains. The temple was dedicated in 1968 as a centennial commemoration of the first Japanese immigrants in Hawaii. The name translates to "Temple of Equality".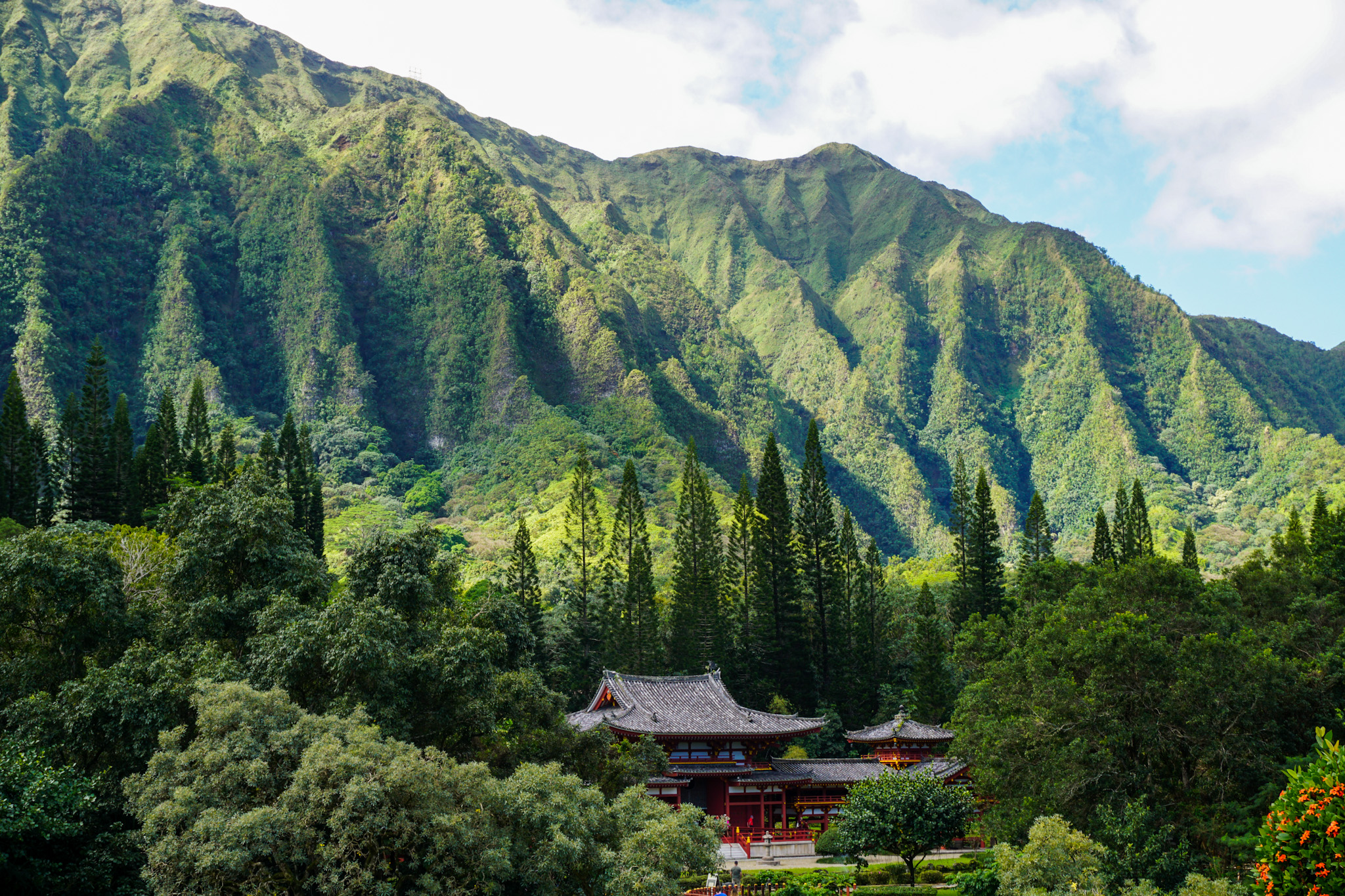 One of the most stunning sights to see is the elegant Byodo-In Temple nestled against the towering Ko'olau Mountains
Enjoy a leisurely activity
Play a round of golf on some of the most scenic courses in the world.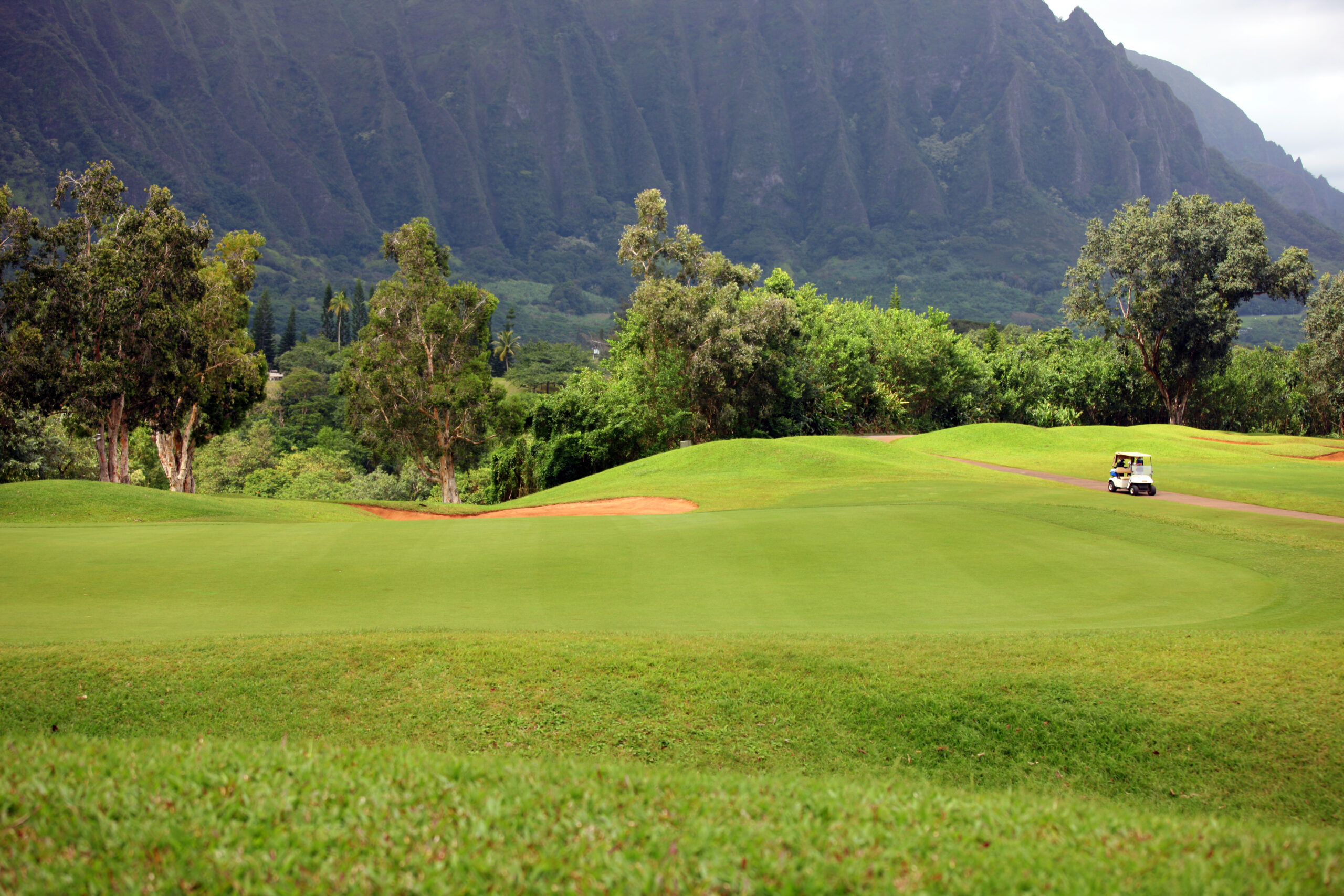 If you're a fan of both Jurassic Park and Golf, you'll have to book a tee time at the breathtaking Ko'olau Golf Club in Kaneohe
Indulge in a spa day! Try a traditional Hawaiian treatment like a Lomi Lomi massage.
Take amazing pictures at Hawaii's most scenic locations
Drive up the windward (east) coast to find adorable beach swings.
Visit famous movie filming locations
Kualoa Ranch – they even offer a movie tour!
Movies filmed here: 50 First Dates, Mike and Dave Need Wedding Dates, Kong Skull Island, and – most famously – Jurassic Park. 
Movies filmed here: The Hunger Games Catching Fire, You, Me and Dupree, George of the Jungle, and Jumanji Welcome to the Jungle.
La'ie Point (from the hilariously uncomfortable cliff jumping scene with Mila Kunis and Jason Segal in Forgetting Sarah Marshall)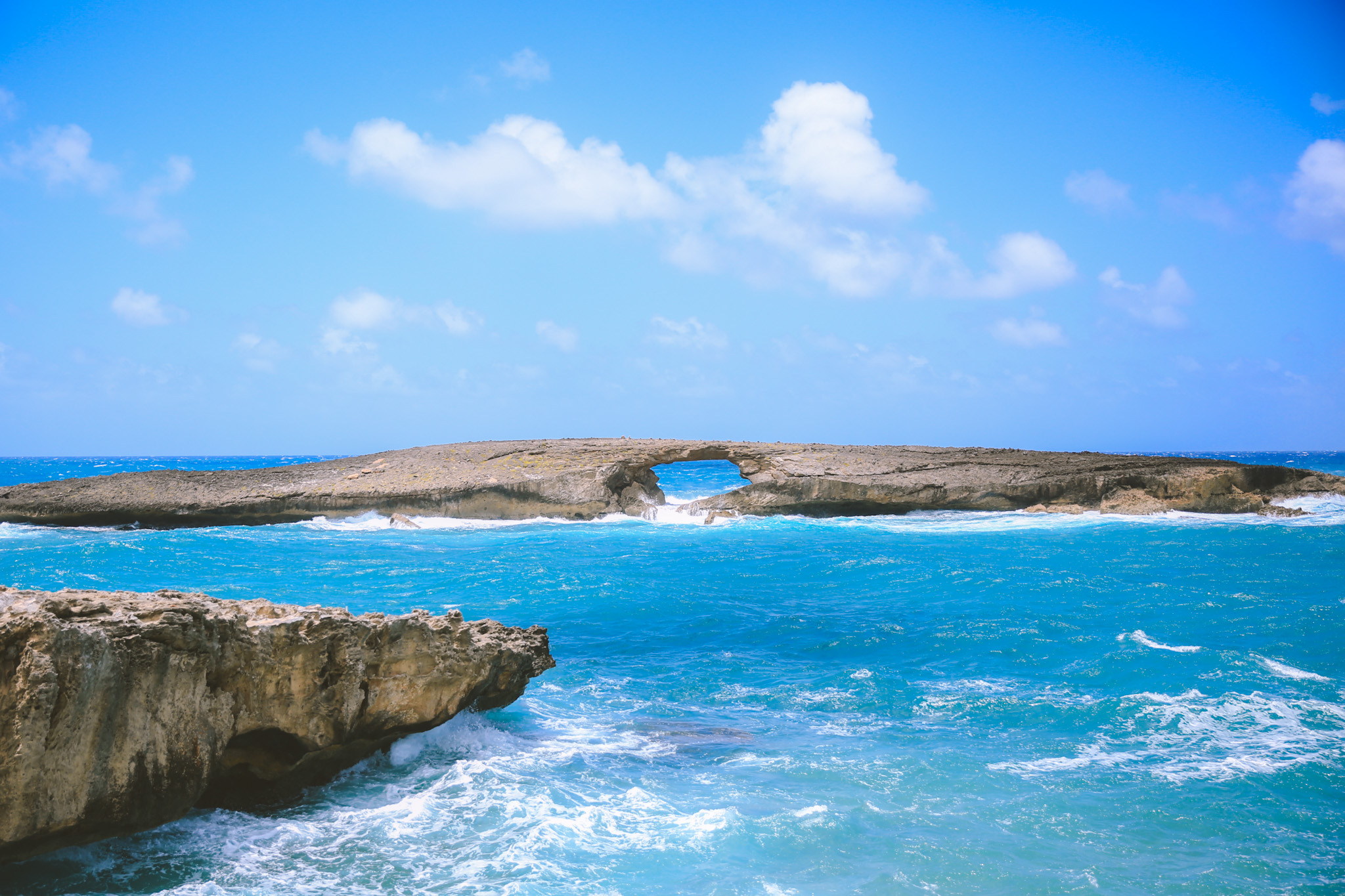 "If you fall straight down you'll probably hit a rock and kill yourself!" … "Totally!"
End the day by watching the Sunset
Take a sunset cruise from Waikiki
There are a variety of tour offerings ranging from high-energy cocktail sails to romantic & luxurious dinner cruises
Or watch the sun go down from the beach! Here are some of the best sunset spots on Oahu:
Waikiki Beach (South Oahu)

Haleiwa Beach (North Shore) – be on the lookout for turtles!

Makua Beach, Makaha Beach, or Yokohama Bay (

West Oahu)
Kailua Beach (East Oahu) – even though the sun sets in the west, you can still catch a beautiful sunset on the eastern shore of the island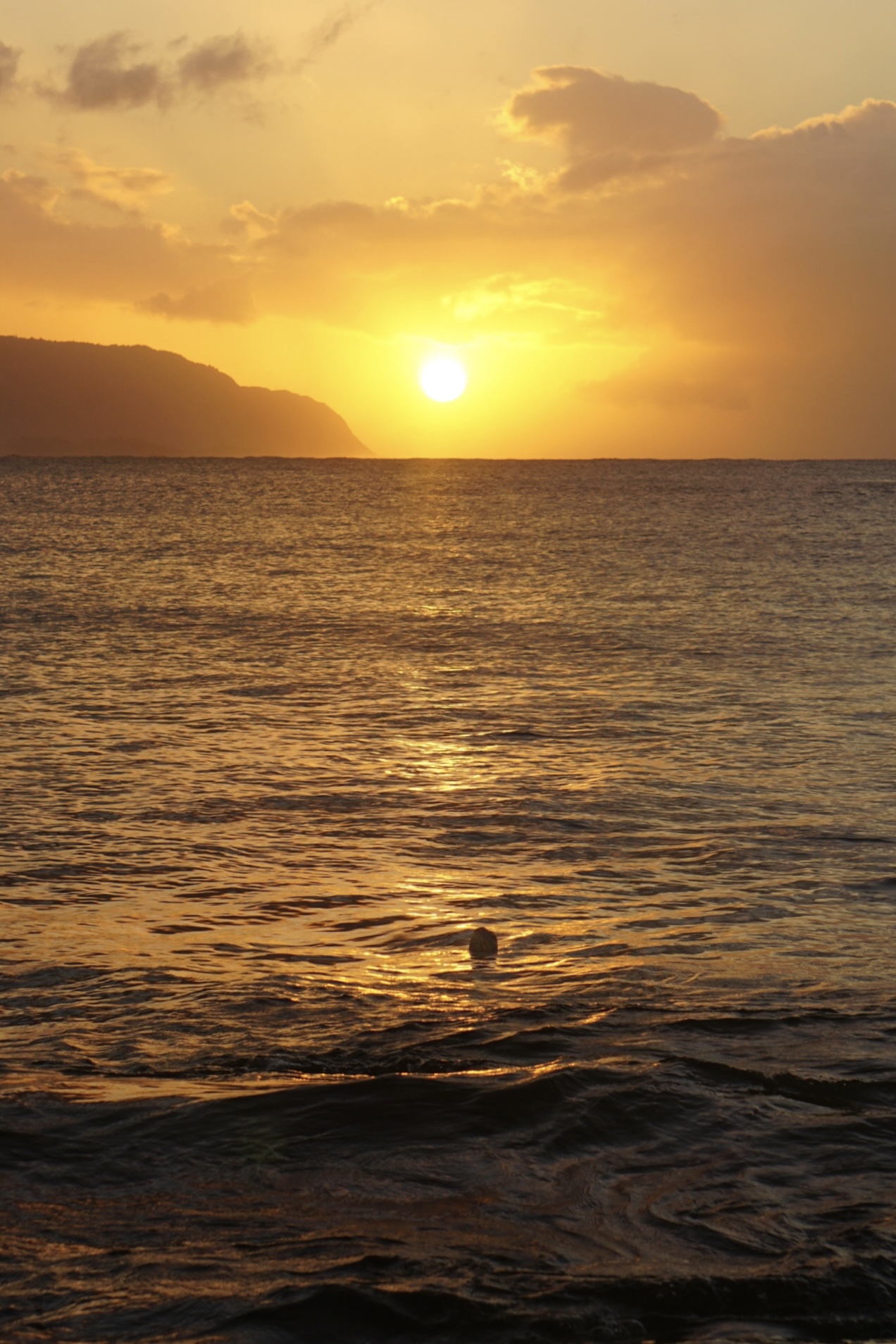 Can you spot the turtle head poking up from the water?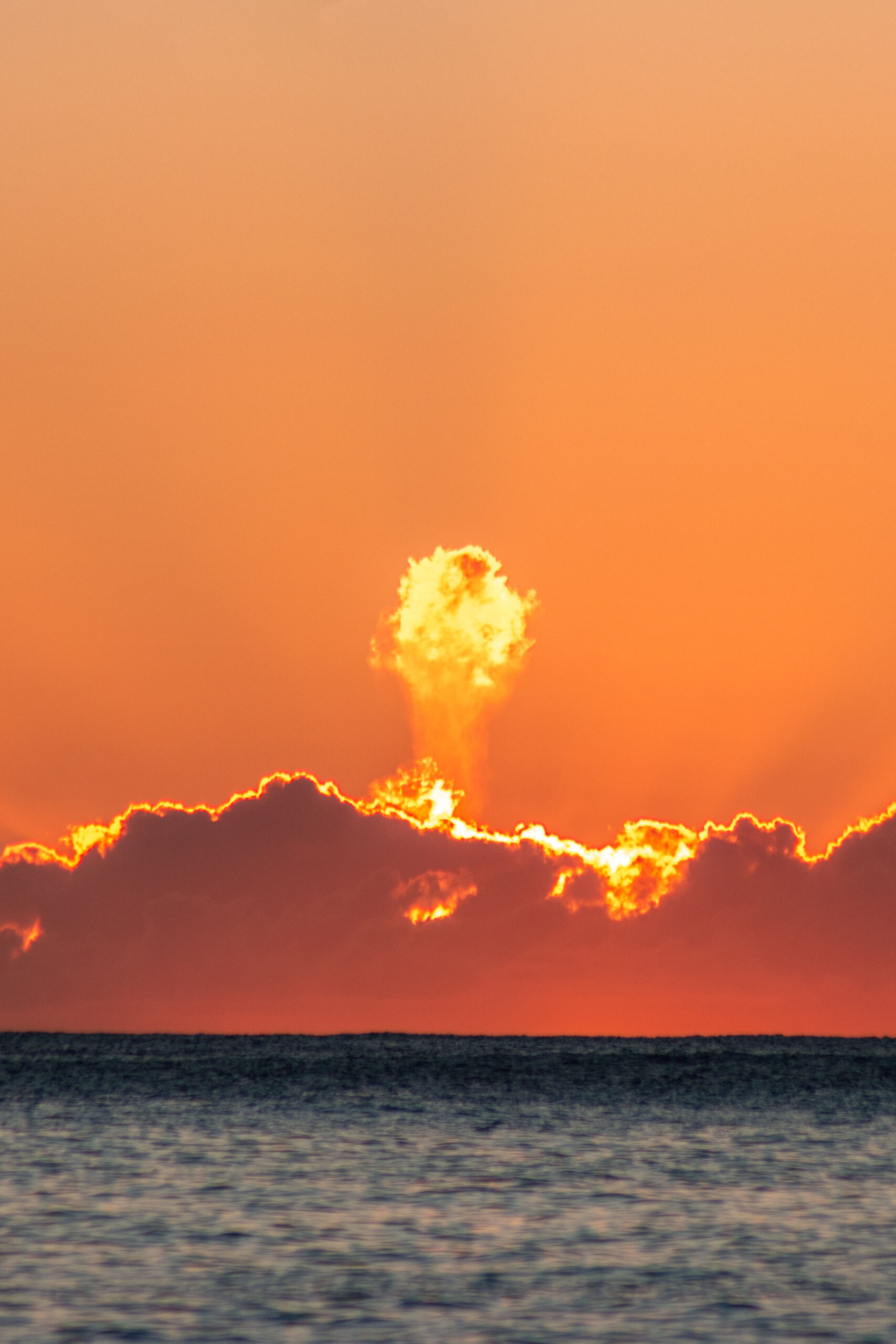 Citrus skies at Makua Beach
Then hit the town for an exciting night!
Enjoy a free show on Waikiki Beach! Catch the hula show on Tuesday nights or watch the fireworks on Friday night.
Whatever you decide to do during your visit to Oahu, Hawaii, you're sure to have a blast. Did any of these activities make your must-do list? Let me know in the comments!