Oahu's eastern Crouching Lion hike is one of the shortest hikes with the most rewarding views! The hike is up the mountain known for its intriguing lion-shaped rock formation. Hikers who endure the steep 30-minute climb are to panoramic views of the crescent-shaped Kahana Bay and the windward neighborhood of Ka'a'awa below. I highly recommend this hike if you're up for a challenging climb!
Hiking Safety Disclaimer:  Hiking in Hawaii can be extremely dangerous. Please keep your personal fitness and skill levels in mind as certain hikes may require a certain level of ability. Always take proper safety precautions and remember to check weather forecasts, currents and tides!
Highlights: The most rewarding views for a hike that takes less than an hour. I love that you can squeeze this hike into a busy itinerary and still have enough time to explore everything else in the area.
Don't let the short duration of this mountain hike fool you! Even though it only takes an average of 30 minutes to reach the summit, be prepared to work hard the entire time. The challenging climb will be worth it once you see what awaits at the top. Compared to the other shorter hikes Oahu offers, Crouching Lion has some of the prettiest and most unique views!
Scroll down to the bottom of this post to see how Crouching Lion compares to the Koko Head Crater Stairs and the Lanikai Pillbox Hike.
Location:
51-676 Kamehameha Hwy, Kaaawa, HI 96730
Crouching Lion is about an hour away from Waikiki. If you are coming from Waikiki, you'll know you are close when you pass an establishment called "Crouching Lion Inn" on your left. Drive around the bend and you will soon arrive at the dirt parking lot.
Parking: 
There is no official parking lot, but hikers usually park on the makai (ocean) side of the road across from the trail entrance. 
The coordinates are: 21.557741, -157.866709 (you can copy and paste these into Google Maps or use the map below)
You can also view my shared Google Maps list showing the location of the roadside parking lot, trail entrance #1 (harder + longer trail), and trail entrance #2 (easier, shorter trail).
Parking space is limited here! Be careful backing out of these spaces since visibility may be blocked by other parked cars.
Also be aware that petty theft is unfortunately very common in Hawaii. Make sure you don't leave any valuables behind after you park your car.
I have also heard of people parking at Swanzy Beach Park and walking north to get to the trail entrance(s). It will take 13-15 minutes for this option. The road curves so please use extreme caution and look out for oncoming traffic. 
Whatever you do, do not park on Trout Farm Road. It is a private road and there's a high chance you will finish your hike to find that your car has been towed. 
Some interesting things you may not know:
The name "Crouching Lion" was coined by Westerners who saw the shape of a lion in the rock formation on top of the mountain where the hiking trail is located. The ancient Hawaiians had never seen a lion, so they would not have been able to make that comparison. According to Hawaiian legend, the "lion" is actually the demigod Kauhi, a relative of the Fire Goddess, Pele, who wished to follow Hi'iaka (Pele's sister) but was turned to stone in the shape of 'llio-hā (huge dog). Kauhi remains here, crouching on all fours overlooking Kahana Bay. 
Looking at the pōhaku (rock) it's easy to see both a lion and a dog with thick fur covering its head and neck.
Ideal conditions: dry, sunny days with no wind
This is a fantastic hike year-round, but the ideal conditions are most likely to occur during the summer when there are statistically less rainy days on Oahu. 
Late morning may be the best time for this hike before the sun is directly overhead. The trail is shaded by trees in some areas, so you will get some breaks from the hot sun if you go mid-day. Don't forget sunscreen!
Avoid this hike if it is raining or if it has rained recently
The trail is covered in dirt and is very steep. It would be very slippery to the point of being dangerous on a rainy day. Getting down the mountain is tough even when the trail is dry, so it would be nearly impossible if it were wet and muddy. Check the weather reports to make sure rain is not forecasted and that it has not rained recently!
Avoid this hike on windy days
I would also recommend avoiding this hike on a super windy day. There are steep cliffside drop-offs and winds can pick up without warning.
Finding the Right Crouching Lion Trail Entrance
Be aware that there are two entrances here separated by a "Do Not Pass" sign. Both have similar signs warning visitors of hazardous cliffs and danger. You'll see one sign with a blue "NOTICE" at the top and another with a red "DANGER" at the top (see photo below)
OPTION 1 *LONGER & RISKIER*
This is the entrance closest to the dirt lot. This trail offers a more adventurous (albeit riskier) experience. Many who choose to go up this way end up descending down the other trail (option #2)
OPTION 2 *SHORTER & EASIER*
The second trail entrance is a few feet further south on the other side of the "Do Not Pass" traffic sign. If you parked in the dirt lot, you will pass the first entrance that has the same signs as this one. This is the entrance to the shorter/easier hike.
LONGER OPTION - PU'U MANAMANA:
You can make the hike even longer/harder by doing the Pu'u Manamana Ridge hike aka the Pu'u Manamana Turnover Trail. I have not done this, so please refer to All Trails for info on this hike! You will still get to experience Crouching Lion then continue on to hike the ridgeline. The full loop is called the Kahekili-Manamana loop and can take 4-5 hours to complete. Every trail leading to the top of Crouching Lion can be dangerous, but this one is especially hazardous with its insanely steep drop-offs and difficult terrain. Many people have lost their lives doing this hike.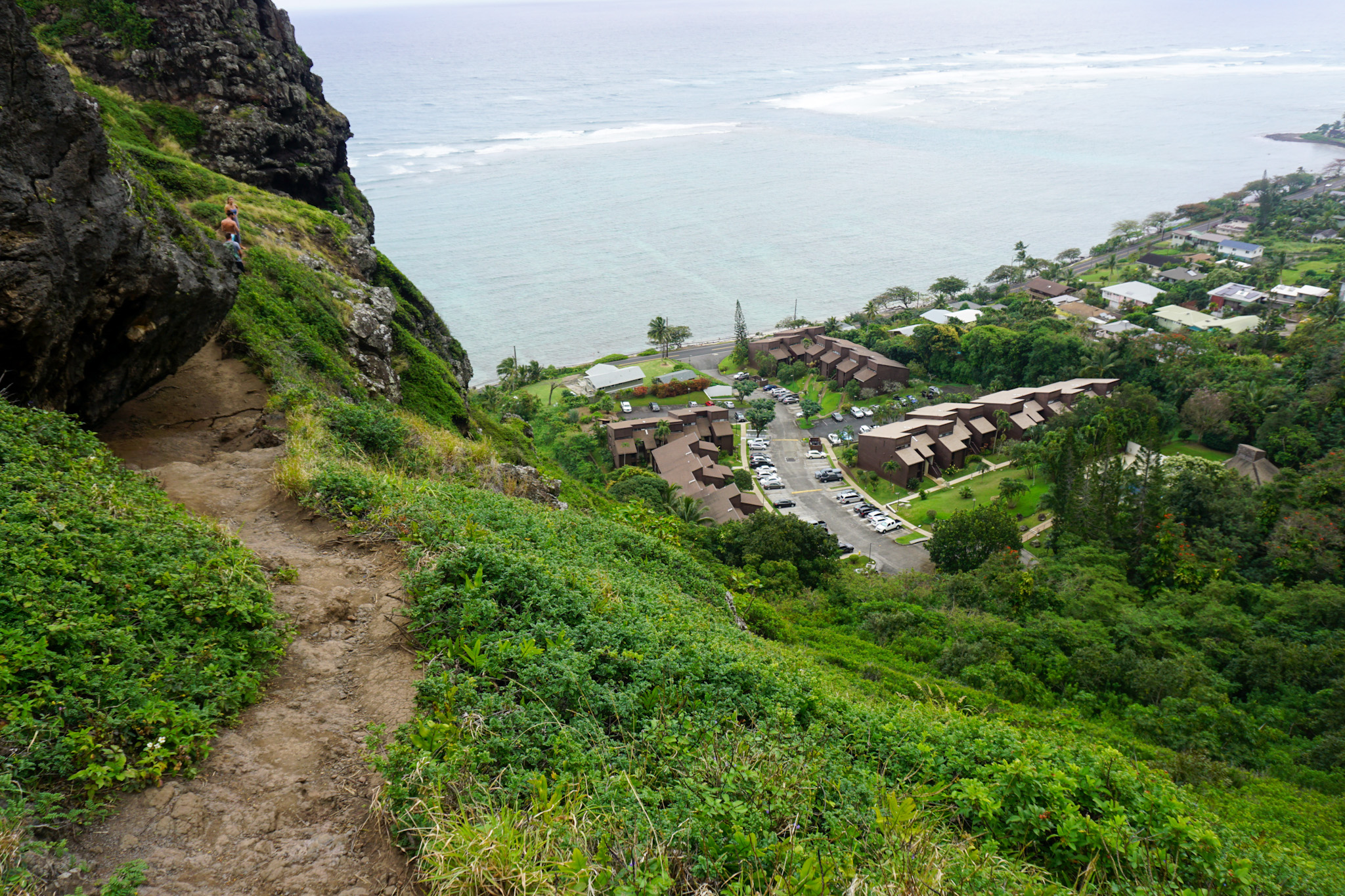 The "easier + shorter" trail is steep from the start. Hey, if you want to reach a tall summit in just 30 minutes, you can't really expect it not to be a steep climb! As mentioned, the trail is safest when it is dry, but there will still be some slippery areas from loose dirt and gravel. There are a lot of tree branches that you will have to climb over or duck under, but they can come in handy when you need something to hold onto.
About 10 minutes into the trek, you'll come across a pillbox. This is a good spot to take a break and soak in some already rewarding views. 
When the path forks, you have the option of taking the left trail for a quicker, steeper route to the top or you can veer right, which will take longer but offer more views on your journey.
Once you reach the top of the hike there are smaller trails leading to the cliff's edge and rocky caves. Explore with caution! Rocks can be loose and the drop-offs here are life-threateningly steep.
Take a moment to catch your breath and soak in the views of Kahana Bay, the nearby town of Ka'a'awa, and the majestic mountains surrounding you. 
The areas along the Ko'olau Mountain Range are some of the wettest on Oahu, so even if it hasn't rained here in a few days you still might experience overcast. The views are still breathtaking so don't let this discourage you if you see some clouds in the sky.
The hike down the Crouching Lion trail presents its own set of challenges. The slippery dirt patches you encountered on your way up will be an issue going down as well. You'll probably want to use the surrounding trees and the occasional rope to prevent yourself from slipping and sliding down the rocky terrain.
Here's a tip: don't wear light-colored clothes or anything you'd be devastated to get dirty. You may resort to inching down the mountain on your butt if you're sliding too much on your feet. 
I wore white slip-on sneakers with no tread on this hike (yeah, I know) and ended up going down barefoot since I was sliding around so much. I do not recommend that you  do this hike barefoot because there are obviously a lot of injury-inducing rocks, plants, and more along the path.
MORE TO SEE NEARBY: Just a few minutes up the road from Crouching Lion is idyllic Kahana Bay. It's worth checking out after your hike for a sandy stroll or to take a few pics on the cutest set of beach swings.
Comparing Crouching Lion to similar hikes on Oahu
You have probably also heard of other famous Oahu hikes that are classified as intermediate and take less than 1-2 hours. Here's my opinion on how Crouching Lion compares to other nearby options Koko Head and Lanikai Pillboxes. 
All three hikes offer unforgettable views that are special in their own unique ways. Whether you only have time for one or you are able to do all three, there's no wrong choice in my opinion. It all depends on your confidence in your physical ability and the level of danger-induced adrenaline you're willing to endure!
Compared to Koko Head Stairs (aka Koko Crater):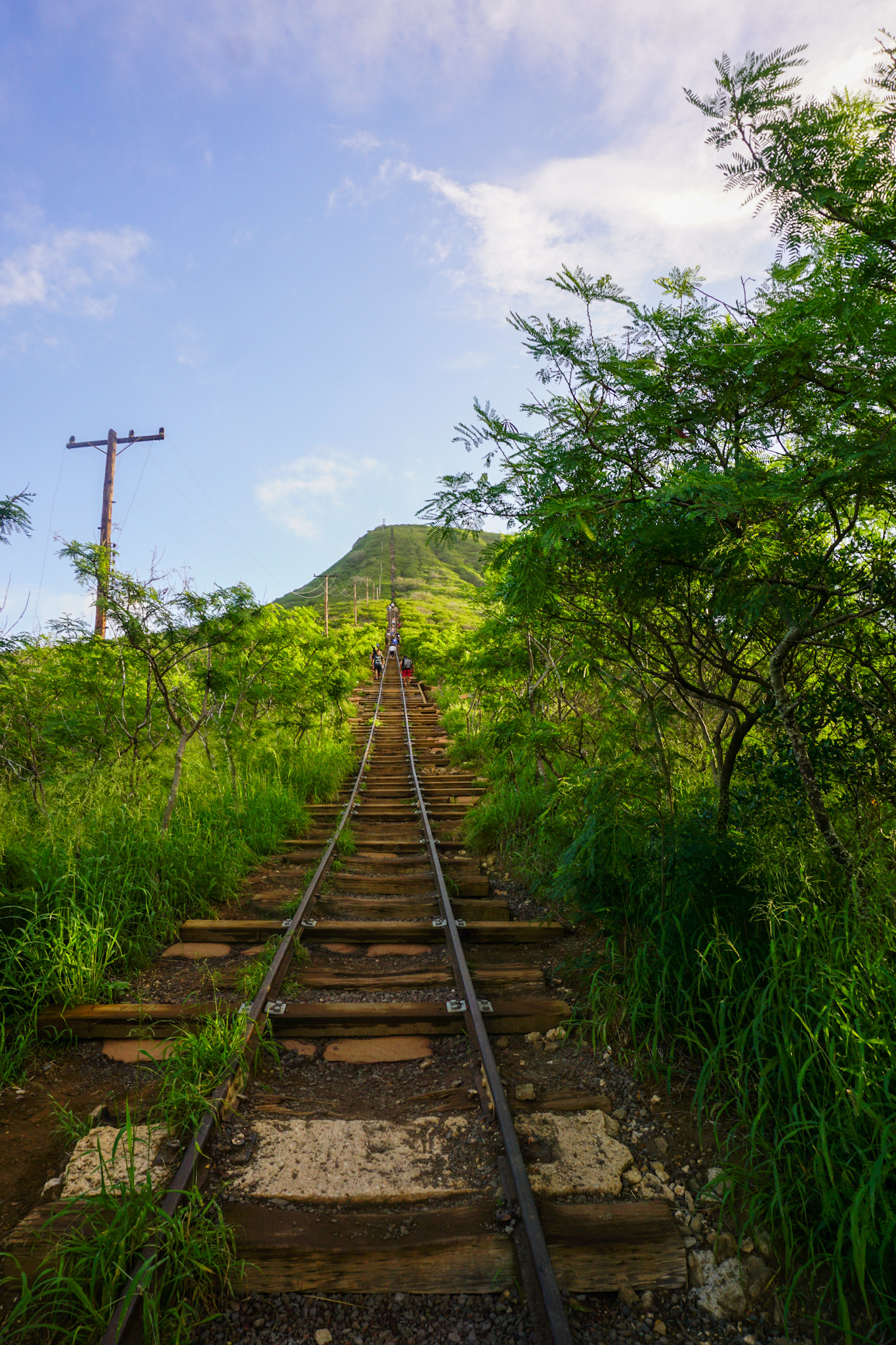 Koko Crater features nearly 1,000 makeshift "stairs" fashioned out of an old railway. The trail is a straight shot up to the Pu'u Mai summit. The hike takes between 30-60 minutes to reach the top. Both Koko Head and Crouching Lion have gorgeous ocean views to reward an extremely steep climb. 
Parking is easier at Koko Head and the trail is also safer. Crouching Lion is more challenging since some parts of the trail require you to use upper-body strength. There are also more safety conditions to consider for Crouching Lion such as mud, wind, and steep cliffs. If Crouching Lion seems too risky for you, I'd recommend Koko Head for a similar challenge and views.
Compared to Lanikai Pillboxes: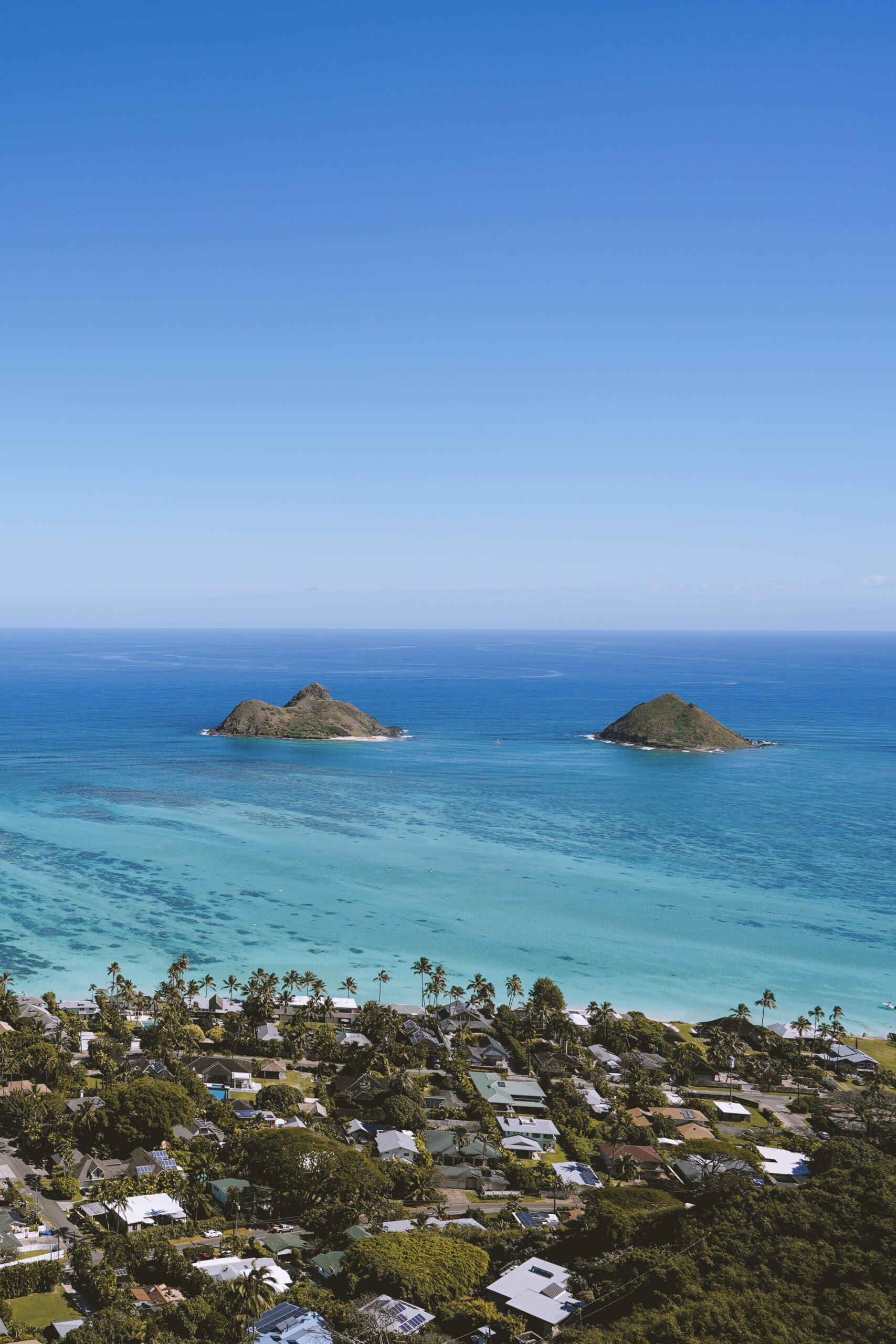 Lanikai is home to a very popular Pillbox hike that offers breathtaking views of the bright turquoise water at Lanikai and Kailua Beach and the unique Mokulua Islands (aka the Mokes).
This hike's incline can also be challenging but is far less severe than both Crouching Lion and Koko Head. The steep but steady trail can take about 30 minutes to reach the first pillbox. While the time length is similar to Koko Head and Crouching Lion, the experience is far less treacherous and much better if you are hiking with kids. The Lanikai Pillbox hike is also one of the easiest and best to do for sunrise!
I can't wait to hear which hike you want to do most! Let me know in the comments below.
More to do and see nearby: