The Koko Crater Botanical Garden is home to Oahu's hidden desert oasis overflowing with cactuses, palm trees, and tropical flowers. The botanical garden is nestled inside Koko Crater, the same crater you can find the famous Koko Head Stairs hike.
Koko Crater is a tuff cone created by Oahu's most recent volcanic activities. Don't worry; the last volcanic activity took place tens of thousands of years ago! The garden was built in 1958 and currently occupies 60 of the 200 acres within the crater. Oahu's east side is hot and dry, making it the ideal home for the dryland plants that live here.
Highlights: 
Admission is FREE. The Cactus Garden makes this spot pretty unique compared to the other gardens on Oahu! If you're visiting when plumerias are likely to be in full bloom (late spring into summer), it is worth a stop to see the Plumeria Grove. 
In addition to cacti and plumeria, you'll also have the chance to see Hawaiian plants, African & Madagascan plants, Dryland palms, and more. Most visitors seem to enjoy the same quiet, peaceful experience I had, so this would be an excellent spot to get away from the crowds. 
What to wear:
Walking or hiking shoes are recommended. I wore Birkenstock sandals, and the only annoying part was that small rocks kept getting trapped in the footbed. The next time I visit I will definitely wear sneakers!
What to bring:
Sunscreen and maybe a hat for extra sun protection

Water (there are no fountains or places to purchase water)




Camera

A picnic lunch or snacks (there are some picnic tables inside the garden)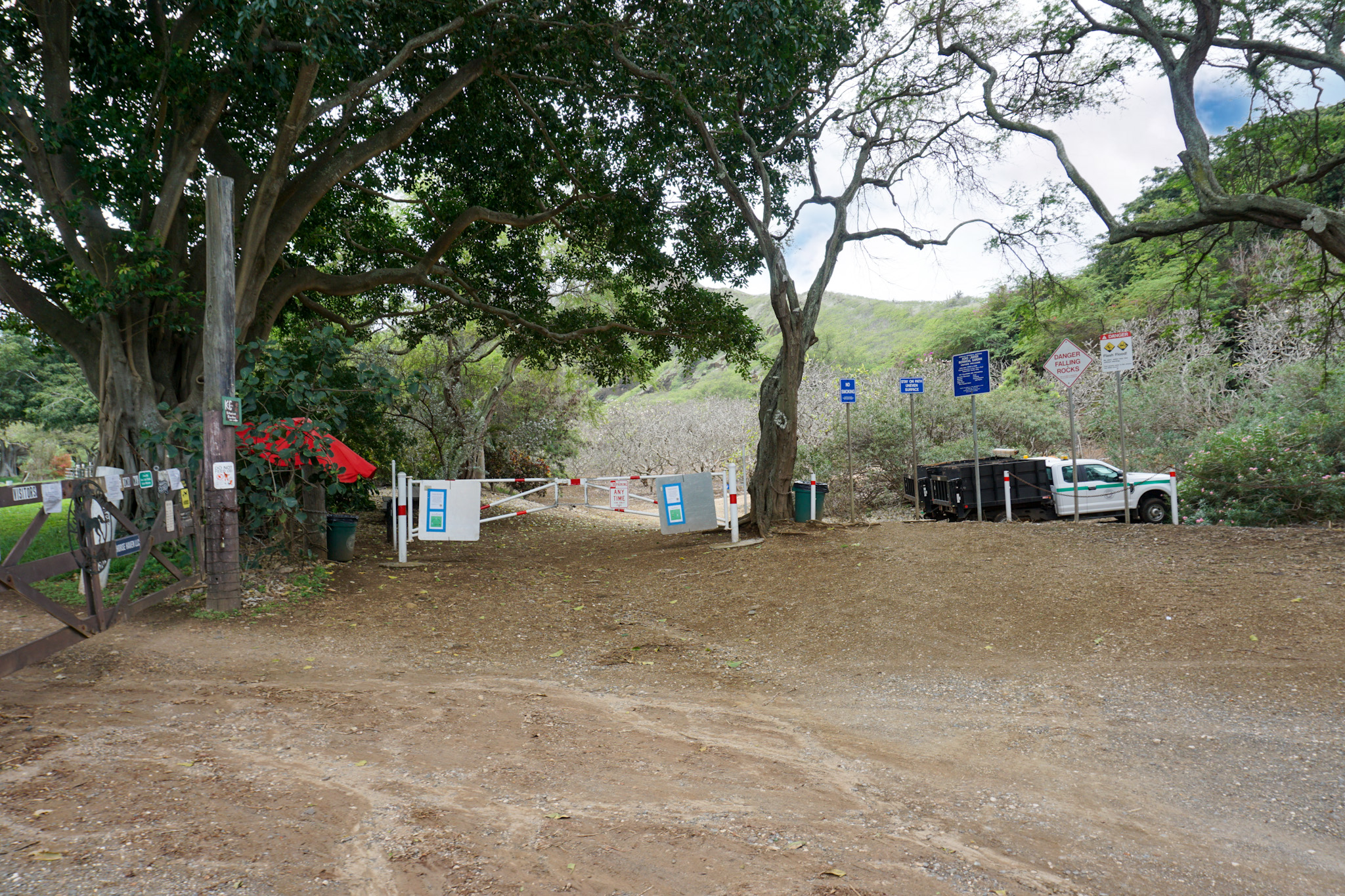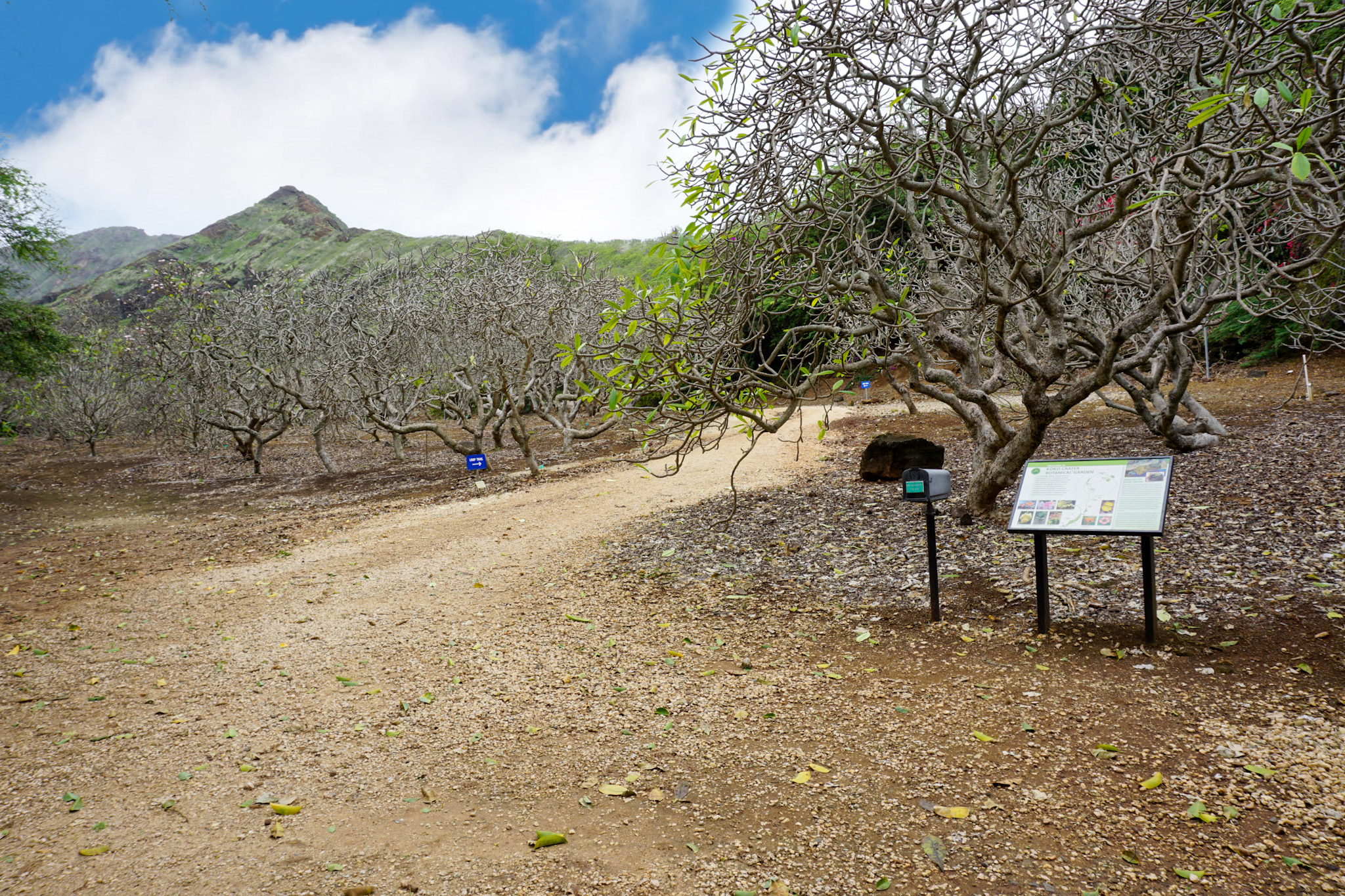 My Koko Crater Botanical Garden Experience (January 2021)​​
The first time I saw pictures of the Koko Crater Botanical Garden, I thought for sure someone incorrectly tagged their Instagram location. Sure enough, there really was a cactus garden on the island, so I went to check it out for myself! 
I visited in late January and was surprised to see I had the garden mostly to myself. There was just one other car parked in the dirt lot right outside the garden entrance. 
I walked up and grabbed a guide from the mailbox that held the paper brochures. Be sure to take one of these when you arrive or refer back to the map PDF linked below.
I was most interested in seeing the cactuses (or cacti, whatever you prefer to call them!) but decided to walk the entire loop. It was windy and cloudy, so I hoped to see some colorful plumeria and hibiscus trees to brighten my day. Unfortunately, the Plumeria Grove's trees were almost completely bare except for a few colorful flowers climbing to branches. I was super bummed because I could just imagine how beautiful the dozens of trees would look in full bloom.
Late April is the best time to visit the Koko Crater Botanical Garden's Plumeria Grove while the flowers are at their peak. Plumerias start blooming in the spring and stop in mid to late summer, but late fall visitors may still be in luck since certain varieties can bloom until October!
It was neat to see the various types of Dryland Palms and hear the unique sounds the wind made as it rustled through the different leaf types. The grounds were a bit messy with fallen leaves and branches, so this area did not make the best backdrop for photos.
I cut a few corners rushing to see the Cactus Garden, but I passed by some other cool plants and trees along the loop. Tiny signs displaying species names can help you identify most of the plants and trees you'll see in the garden.
Cactus & Succulent Garden
You'll find a ton of awesome cactuses of all shapes and sizes in the Americas section of the botanical garden. This was my favorite part of the loop! It was also the only time that I saw another human (which almost gave me a heart attack when I saw movement behind some cactus arms)
To sum up my experience, the Koko Botanical Garden was a cool thing to do on a mostly-cloudy day. I enjoyed the Cactus Garden but probably would have skipped doing the entire loop during my winter visit. I'd love to return when the plumerias are blooming!
You could easily experience the highlights without committing to the 90-minute walk. If you're short on time, I would suggest hitting just the Plumeria Grove and the Cactus Garden, which should be easy to do considering they are both close to the entrance. Personally, I would not recommend planning an entire day around a visit to the garden, but I would recommend adding it to your itinerary if you're already planning on doing other activities in the area. 
Reasons to go to Koko Crater Botanical Garden:
If you're in the area and have some time to kill

If you're looking for an easy, flat trail to walk

If the Cactus Garden interests you

If you're visiting between Spring to Late Summer and want a fantastic spot to take photos of endless plumerias

If you are looking for something more off-the-beaten-path

If you're hoping to have a place primarily to yourself or if you're looking for peace and quiet

If you're looking for a free activity
Reasons to skip it:
It is not the most maintained botanical garden on the island, and it's not exactly the most captivating. I much prefer Waimea Valley on the North Shore for a leisurely walk in a lush tropical setting with a waterfall at the end.

If it's winter, there's a chance most of the flowers will not be in bloom.

If you're not staying nearby or only have limited time, you will probably find other experiences more rewarding unless you're specifically looking for what this garden offers!
Have you been? I'd love to hear your thoughts! Leave a comment below 🙂
More to do and see nearby: